Sending out a Tax Questionnaire to a client's Self-Assessment app
You can send out a Tax Questionnaire from the web application to a client and they will be able to fill out on the Self-Assessment app on their mobile phone.
Go to the Agent dashboard, select Self-Assessment on the left-hand menu and then select Client List. Locate the client you wish to send the questionnaire, change the Work Status to Questionnaire Sent and then click Save.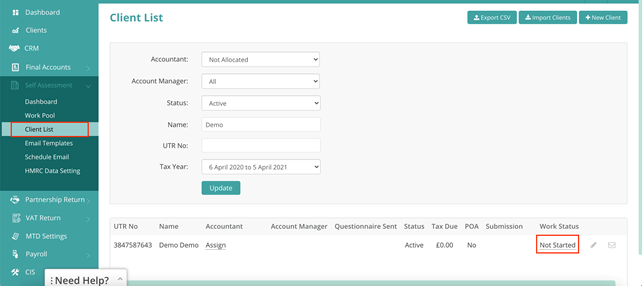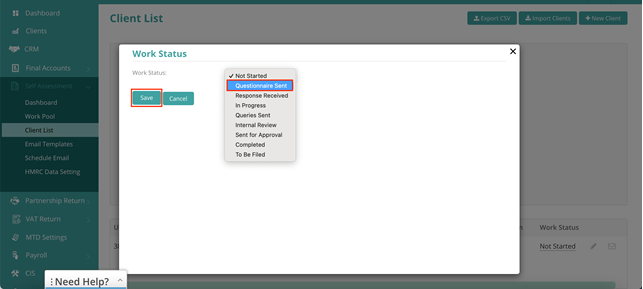 This will send a notification to the client's mobile phone which will take them to the app where the Tax Return Status will change to Questionnaire Received and also provide them with an action button to Complete Questionnaire.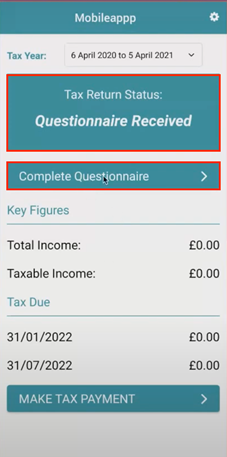 Related Articles

Self-Assessment app

The Self-Assessment mobile app is a bridge between clients and advisors that helps unlock hidden efficiencies within the Self-Assessment production process. The app has eliminated all of the time-consuming processes such email or SMS and has all the ...

Self-Assessment eSignatures - Now Live!

By popular demand, self-assessment eSignatures are now live! This functionality allows you to request and obtain approval seamlessly without having to leave the Nomisma platform. It will: Send an email containing eSigning links, within just a few ...

Completing the Tax Questionnaire on the Self-Assessment app

The Tax Questionnaire is comprised of twenty-six questions that cover every single scenario and can unlock 'hidden' conversations such as tax saving opportunities or any other additional value-added work. It simply allows clients to answer ...

Tax Questionnaire

Send digital tax questionnaires to your clients to collect Self-Assessment data to digitally transfer them to your client's Self-Assessment returns with the click of a button. Your client can submit the data using mobile app or via a web browser. ...

Reviewing Tax Calculation and Self-Assessment Tax Return

You are able to review the Tax Calculation generated from the submitted Tax Questionnaire by going to Review and File on the left-hand menu of the client's Self-Assessment module. ​ You will also be able to review the final Self-Assessment Tax ...