Creating a Self-Assessment client
From your Agent screens, click on the + button in the top right-hand corner, select New Client and then choose the Self-Assessment option.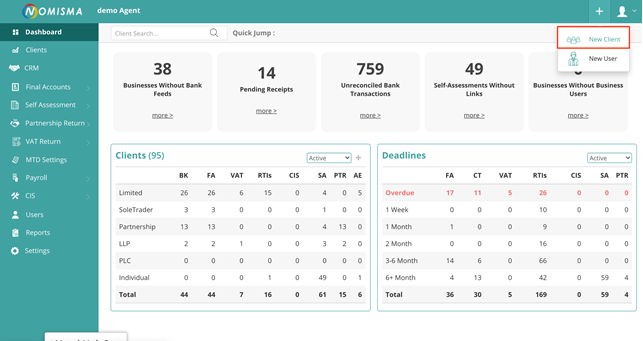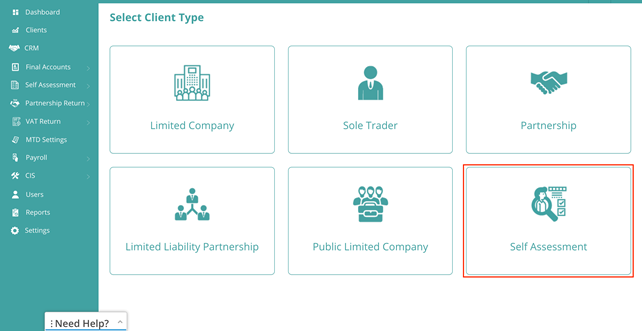 Either choose to manually add a new client or you can batch upload multiple clients by downloading the CSV template, populating it and then upload via the choose file option.
Once you have successfully added a client/s (either manually or batch upload) they will then appear within your clients list under the Service Type 'Self-Assessment'.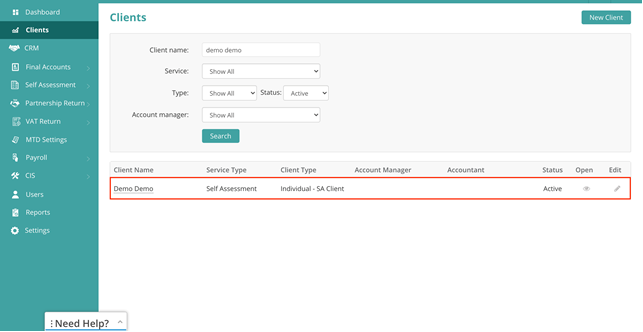 Related Articles

Self-Assessment eSignatures - Now Live!

By popular demand, self-assessment eSignatures are now live! This functionality allows you to request and obtain approval seamlessly without having to leave the Nomisma platform. It will: Send an email containing eSigning links, within just a few ...

Self-Assessment app

The Self-Assessment mobile app is a bridge between clients and advisors that helps unlock hidden efficiencies within the Self-Assessment production process. The app has eliminated all of the time-consuming processes such email or SMS and has all the ...

Approving a Self-Assessment

To send off the Self-Assessment for a client to approve you will first have to select the Submit to HMRC option under Review and File and lock the Self-Assessment. ​ You will then need to go back to the Self-Assessment dashboard, change the ...

Submitting a Self-Assessment

To submit the Self-Assessment to HMRC you will need to select the Submit to HMRC option under Review and File, scroll to the bottom of the page and first click the Validate Submission button (this will send the submission to HMRC's test server to ...

Sending out a Tax Questionnaire to a client's Self-Assessment app

You can send out a Tax Questionnaire from the web application to a client and they will be able to fill out on the Self-Assessment app on their mobile phone. Go to the Agent dashboard, select Self-Assessment on the left-hand menu and then select ...